With the goal of decarbonization and carbon neutrality in the health sectors of many countries by 2050, health professionals must implement systemic changes in clinical practice to reduce carbon use, whilst meeting equity targets and improving health outcomes. Methods and tools to do this are available and physiotherapists can play a key role in improving health outcomes and achieving sustainable development goals. Our recently published article (see full citation below) gives examples of how physiotherapy contributes to more sustainable healthcare within the field of orthopaedics.
Sustainable healthcare addresses the socio-ecological determinants that undermine population health, intervenes as early as possible in the disease process, delivers 'lean' healthcare pathways and overall reduces the environmental and socio-economic costs of healthcare provision, benefiting patients, populations, and the environment. Within the health system, physiotherapy already contributes significantly to sustainable practice through its reliance on nonpharmacological, low-cost and low-carbon treatments that empower patients for self-management. Nevertheless, physiotherapy also has a carbon footprint that can be reduced, particularly in the areas of procurement, care pathways, and travel.
Concepts such as the sustainable value equation can guide sustainable clinical decision making by revealing which techniques and processes are the most polluting, and which can most improve quality of care. Evaluations of healthcare- and physiotherapeutic interventions from a triple bottom line perspective are rare and need to be conducted to guide sustainable clinical decision making. Systematic evaluations can be conducted using the principles of sustainable healthcare. By generating evidence for clinical decision making, physiotherapy can make a significant contribution to achieving a net zero health sector by 2050 and a more sustainable healthcare.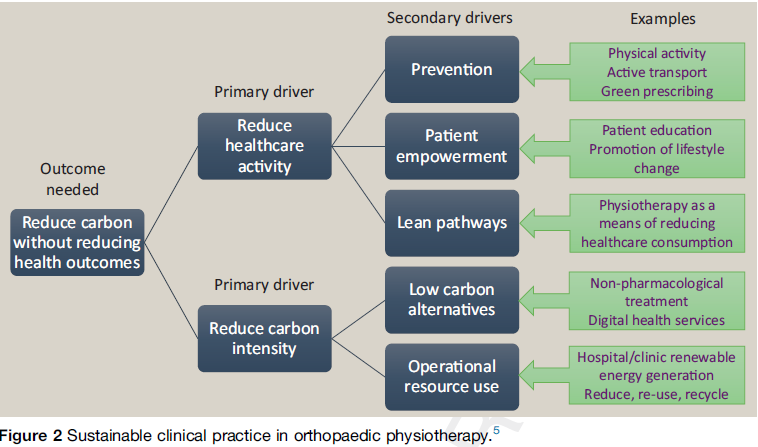 Annie Palstam (PhD)
PT, Associate Professor
Annie Palstam is a researcher and senior lecturer with strong commitment to issues of sustainable development and special interest in interactions between environmental issues and health. Initiator of #physiotherapistsforfuture in support of #fridaysforfuture with manifestations every friday (Instagram, Facebook and Twitter). She is also a board member of the Swedish Association of Physiotherapists where she is Chair of the council for ethics and sustainable development.
Annie Palstam on ResearchGate