PATIENT EDUCATION
Patient education is an incredibly important part of environmental physiotherapy practice. As environmental change continues to exacerbate around the world, people will have to gain a better understanding of how the environment will affect personal, community, and public health. Building on this understanding, it is also critical to educate present and future patients about the many different ways that sustainable lifestyle and health choices can be beneficial for their personal health, society, and the environment alike. Finally, patient education should also be considered as another element increasing nature-connectedness among people, in conjunction with other approaches to environmental physiotherapy practice, like nature-based therapies. This is because nature-connectedness is proven to enhance pro-environmental behaviors and social connectedness, thus, in turn maximizing health benefits through a wide variety of pathways.
On this page, you will find a growing range of resources related to patient education in the context of environmental physiotherapy. If there is anything you feel could be improved, added, or updated, please do not hesitate to get in touch using the contact form at the bottom of this page.
EPIC POSTER: WHY PHYSIOTHERAPY IS GOOD FOR YOU AND THE ENVIRONMENT
Throughout 2021, and in close collaboration with the EPA, a team from our German partner organisation the Health for Future physiotherapy working group – Physios for Planetary Health (PPG) has developed a poster that highlights the co-benefits that physiotherapy has for personal health and the environment. You can download the poster in different formats below, hang the posters anywhere in your clinic and if you can, share a photo on your social media channels by tagging the Environmental Physiotherapy Association using #EnviroPT.
The poster contains a QR code link that will take you to an additional page containing  supporting information and resources for each point made on the poster.
We would love your help to translate the poster into as many other languages as possible, and adapt it to as many different regional contexts as possible. If this sounds like something you would like to get involved in, please get in touch using the contact form at the bottom of this page.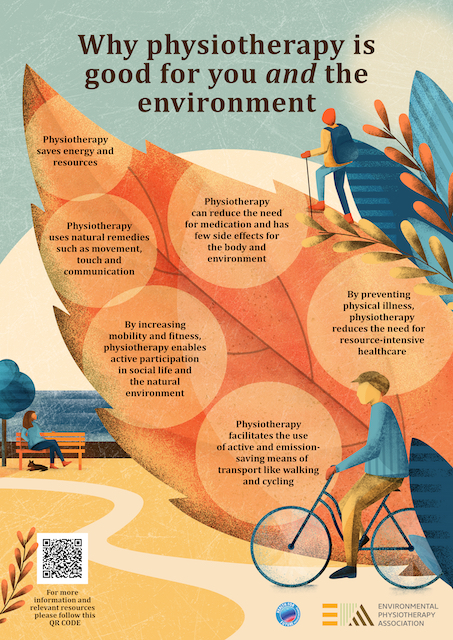 EPIC Poster: Why physiotherapy is good for you and the environment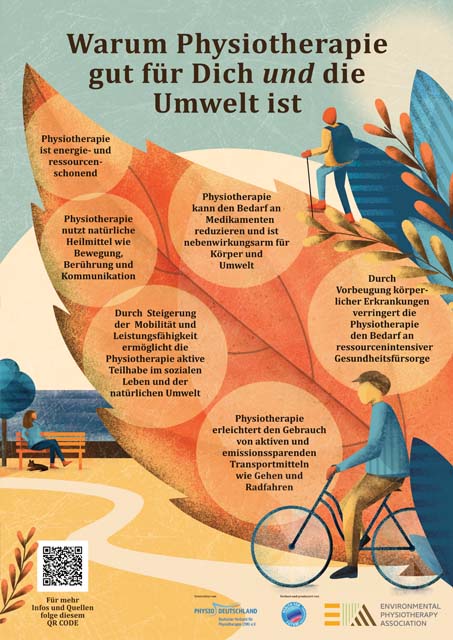 EPIC Poster: Warum Physiotherapie gut für Dich und die Umwelt ist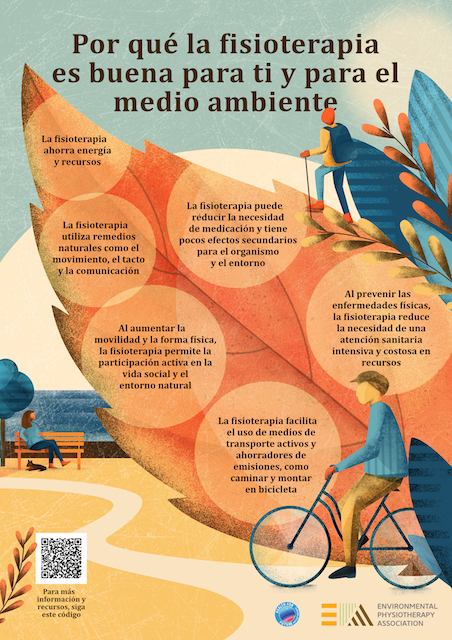 EPIC cartel: Por qué la fisioterapia es buena para ti y para el medio ambiente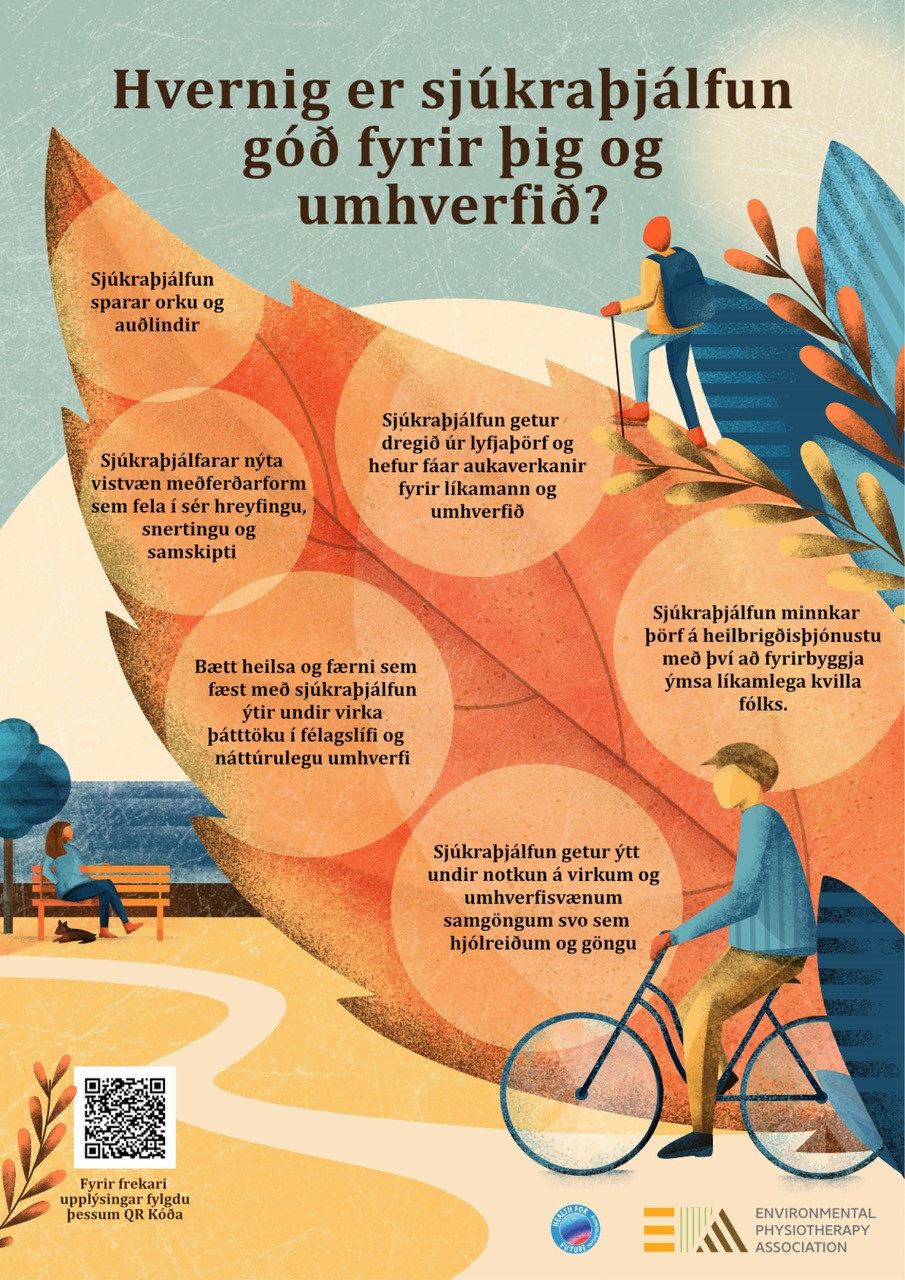 EPIC plakatið: Hvernig er sjúkraþjálfun góð fyrir þig og umhverfið?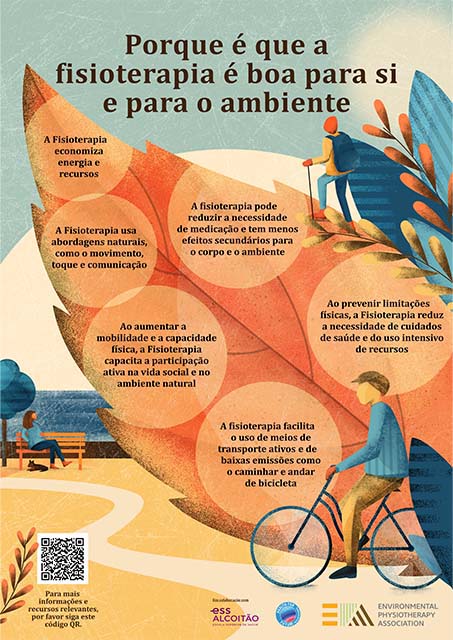 EPIC cartaz: Porque é que a fisioterapia é boa para si e para o ambiente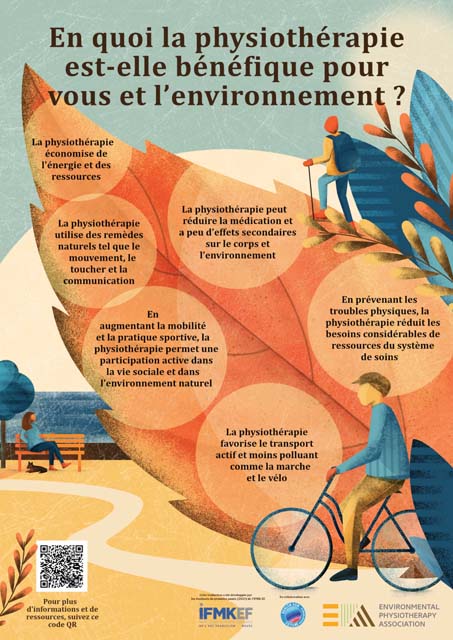 Affiche EPIC: En quoi la physiothérapie est-elle bénéfique pour vous et l'environnement ?