What is the relation between growing plants, reused plastic pipes and physiotherapy? I have often been asked this, since I have engaged in urban gardening in Rwanda and Denmark. My personal path to connect the dots contains two meetings and an opportunity, which I will outline below. But first the framework.
To me, 'plants, pipes and physiotherapy' are utterly intertwined, just like inner and outer growth is. The Inner Development Goals, and their role as possible accelerators to reach the Sustainable Development Goals, provide a framework to enlighten how tiny urban gardens help people and communities to grow together (Inner Development Goals, 2022). 
Being is supported, when spending time in/with nature: However enclosed and urban, the plants provide an option to stimulate your senses, when you see, touch, smell and taste herbs, flowers, and vegetables.
Thinking is engaged, when we relate the act of growing organic food to our own health, environmental awareness, and climate change. To most participants, the act of growing plants is brand new, so there are lots of new skills to learn.
Relating to soil, manure and plants let us grow roots in the territory we inhabit, and we take care of this little plot of life. Growing vegetables also lets us care for others in the very basic way of providing food we can prepare and eat together.
Collaborating is necessary to provide ground, pipes, soil, manure, seeds, water and combine them all to provide for plants to grow. We try out, we adapt, we create together, and we pass knowledge between generations and between continents.
Acting is fuel, when it comes to stimulating change of life and the framework around our lives. By acting – together – we learn by doing, that change is achievable.
I will illustrate these dimensions by sharing a few glimpses of what comes to life among children, adults, and plants. But first, let me introduce to you, the Indaro Center in Kigali, Rwanda.
Betina Ringby (PT, MHSc)
Project leader, Garden to Connect, Rwanda
Connecting health (promotion), nature, community-building, creativity and entrepreneurship. Dedicated to raise environmental awareness, educate vulnerable groups in urban gardening and in how to grow plants, people and communities. Work life experience as practitioner, clinical supervisor, consultant and lecturer.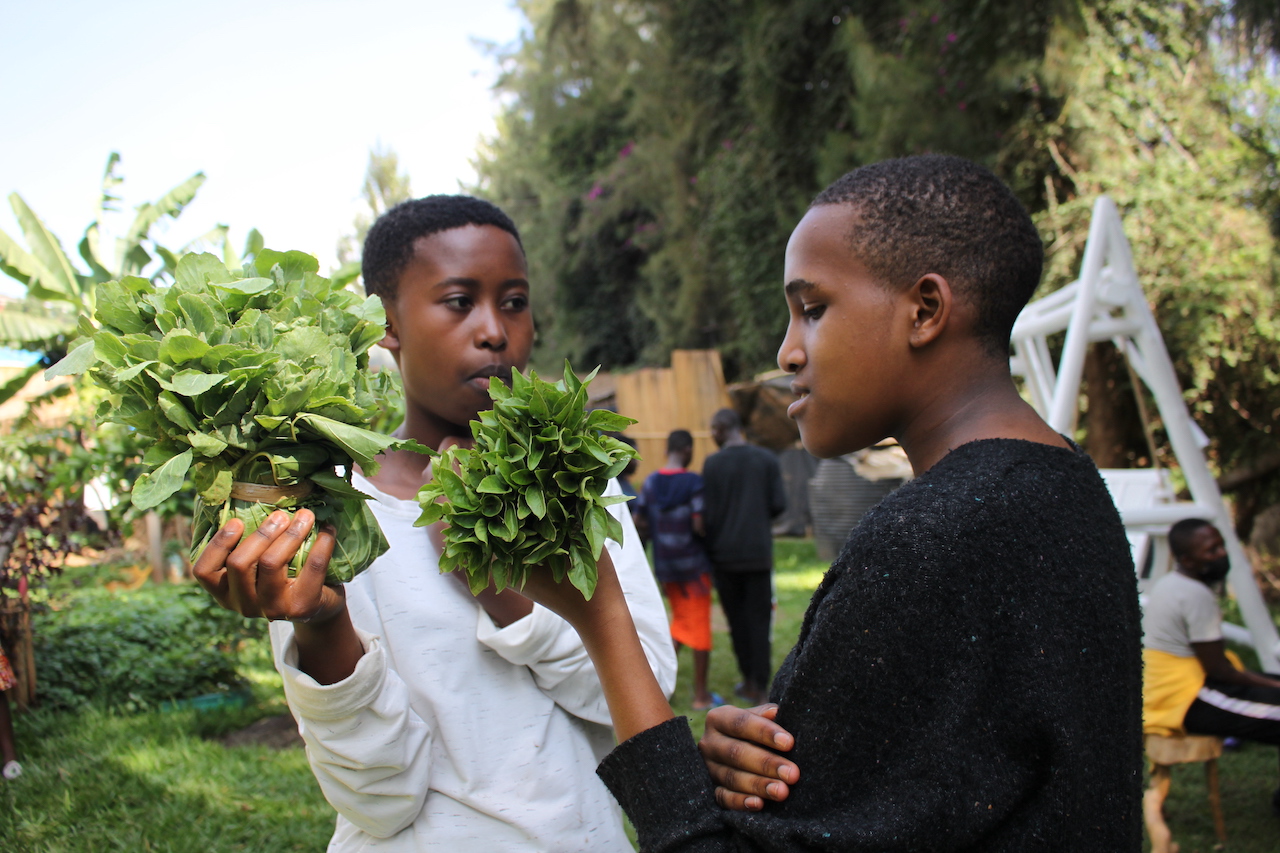 In a densely populated neighbourhood, with low incomes and average educational levels, many families struggle, and many children spend most of their time in the streets. While in the streets, they do not attend school nor get to eat on a regular basis, and many fall into some kind of drug abuse. Local authorities allow the Indaro Center to shelter some of these vulnerable children. Some move to this house and others sleep at home with their parent(s) and spend their awake hours after school and at weekends at the Indaro Center. Indaro is like an extended family, run by adults, who know themselves what it's like to live in the streets.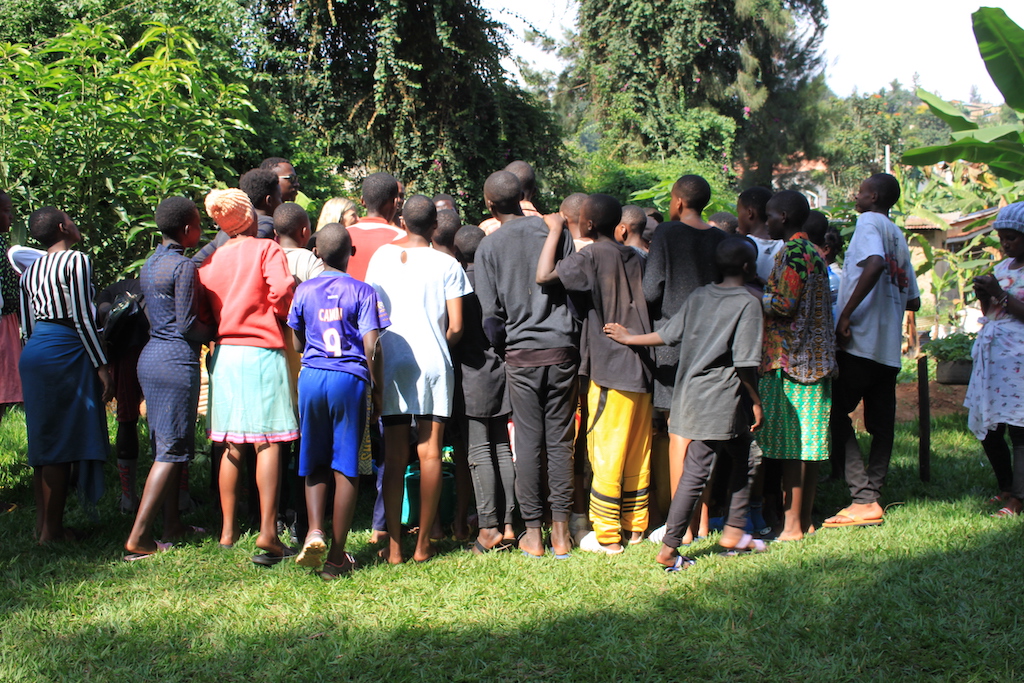 My own path to connect the dots can be sketched through two meetings and an opportunity.
Meeting no 1
I initially met this lively family through dance. Working part-time in Rwanda as a teacher in innovation-entrepreneurship for Danish physiotherapist students, I explored the local dance scene while off duty. Here I met volunteers who also teach the Indaro children to dance. And having first entered this big and lively family, our connections keep evolving.
Meeting no 2
Back in Denmark, I met Marianne in a herb garden framed by plastic pipes. Seeing the PVC-gardens immediately gave me the idea to make a similar garden with the Indaro crowd in Kigali (PVC, 2022a).
An opportunity
Based on the cooperation with Ole and Tobias at the PVC Information Council in Copenhagen (PVC Rådet), we wrote an application to Vinyl Plus, the European plastic industry headquarters in Brussels (PVC, 2022b). And Vinyl gave us the opportunity to "Garden to Connect" in Rwanda, since upcycling plastic waste is high on their agenda, also outside Europe (Garden to connect, 2022).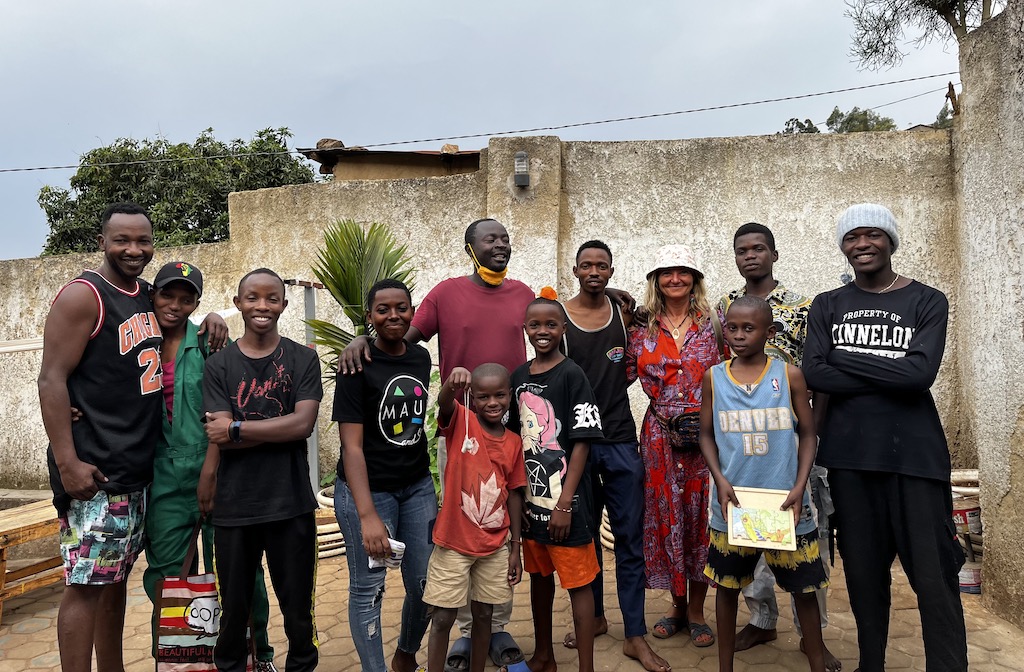 A glimpse of life in the Indaro Garden to Connect
Being
When we first made the garden, a bunch of the children ran around playing. One of the adult members of the family noticed this, and drew my attention to the fact, that this was out-of-the-ordinary "These children carry so much responsibility; for younger siblings, for ill parents, for earning a living, doing good in school". To see them relax and play, have fun, being children, is a gift. Being is good, in a garden.
Thinking
Issiaka is a former child of Indaro, who has done so well in school that he has earned a scholarship to go to the university. He is more occupied with reading-writing-skills than planting-growing-activities. To him, the garden provides a helpful place to study: "When I study in the garden, I remember better. Thinking is good, in a garden."
Relating
Mussa, a young man, immediately took great responsibility for growing the plants. He is often in charge of cooking for the young ones:" By learning how to grow vegetables, I know I can produce food for the little ones." Relating plants to food is possible, in a garden"
Music is a strong ingredient in the Indaro family culture – so of course they've composed a song about Garden to Connect – hear it on the video below and see if you can catch the names of the people from outside Indaro, who are now like relatives, through the establishing of a garden.
Collaborating
Nothing grows without water. In the Indaro garden, water does not flow out of a tap. We need to jump a few meters down to the river and bring up water in plastic containers. The children are used to this, the older ones helping the younger ones. Nothing grows without nutrition, the Indaro plants are fed with cow manure that is fetched outside the city-borders, just like the tiny plants, produced by skilled people from the countryside. Collaborating is key, to grow a garden.
Acting
'Just do it' seems so simple in the commercials. Reality is severely more limited, with access to very little space and resources. From my first encounter with plants in pipes to planting, attending, and harvesting in Kigali, lies a dotted line of relatively simple actions. Acting brings a garden to life.
"Growing plants, people, communities and taking care of the environment is physiotherapy" is my answer to the question people often ask me. Green educational activities, environmental awareness, inner development goals in relation to the SDG's are physiotherapy – environmental physiotherapy (United Nations, 2022).
Dancing and singing are part of Rwandan culture. I invite you to view the video, turn up the volume and relate yourself by dancing with the Indaro children…