It does not take a lot to understand that climate change is a problem too big for anybody to solve on their own. Truthfully, it can be overwhelming and demotivating, feeling that you are fighting on your own against the world. I recently wrote my bachelor's thesis in the hope that it would support physiotherapists in my country to work more sustainably.    
My interest in the environment predates my physiotherapy education and might be a part of why I chose it. Physiotherapy for me was already focused on what looked like an environmentally conscious path for health care. Less invasive treatments: like training instead of or together with surgery, pain relief with less pain medication and treatment options like psychomotor physiotherapy.
Norway is on its way to embracing more sustainable healthcare, yet the Norwegian physiotherapy association does not have guidelines on how physiotherapists and physiotherapy clinics can be more environmentally sustainable.  Norway`s goals when it comes to public health are for Norwegians to enjoy long lives and get the best treatments possible. Yet pollution from global health care systems is already high and contributing to the negative effects that climate change is having on people everywhere around the world.
Earlier this year, the EPA published a poster that suggests measures that clinics can take to be more environmentally sustainable. Originally published in German and then translated to English, you can now also find this poster translated and adapted to the Norwegian context, available for reading and download here!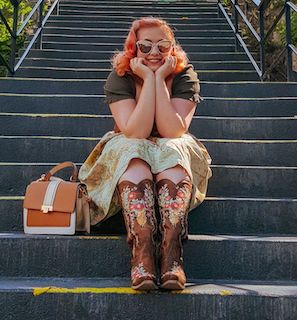 Hanna Grønvold
PT in rotation
Hanna Grønvold recently graduated as a physiotherapist from UiT The Arctic University of Norway. She is currently working in Senja municipality and helping their community physiotherapy department with developing a plan for becoming more environmentally sustainable. Hanna's hope is that more people will become inspired to do the same. For questions about her Bachelor's project and interests in collaboration you can contact Hanna via hannagv9895 (at) gmail.com or find her on Instagram @miss_hannahoney
By using an adapted Delphi-study protocol, I redeveloped the Norwegian poster to fit our Norwegian health care system and its unique context and challenges in the best way possible. Under each measure you will find suggestions for implementation in practice, the reasoning behind each measure, and sources and additional information to make it easy for you to start. In the Norwegian version, the measures at the beginning of the poster are accessible to more people, need little resources and can be implemented quickly. The further down on the list you go, the more comprehensive the measures become.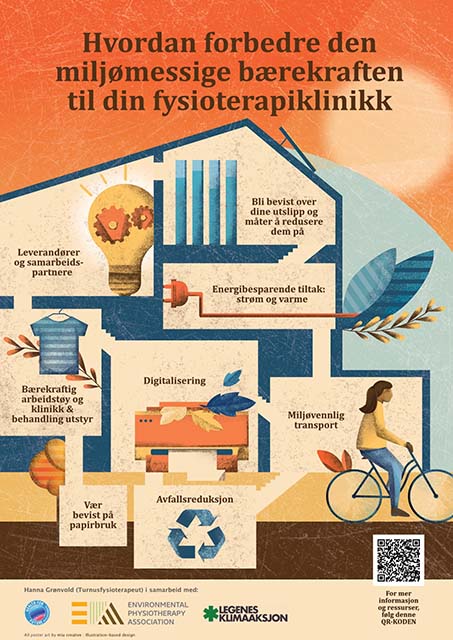 A big difference when adapting the measures to fit the Norwegian context was that a lot of physiotherapists work in the municipalities and not connected to a hospital or in the private sector. There are 356 municipalities in Norway, all with different challenges and goals. To be able to make measures that can be implemented in all of Norway there has to be room for trial and error, without judgment from others, and an understanding that not everything is doable for all municipalities. With most physiotherapists in Norway connected to a municipality, bigger changes will take longer time. That is because more people need to get on board and there are a lot of projects being pushed at the same time, often with few people and resources to do them.
All that being said, there is a lot that can be done and this poster will hopefully be a helpful tool for all those that are unsure where to start on this urgent transformation of physiotheraphy and our health care systems.
Lykke til! 
Hanna